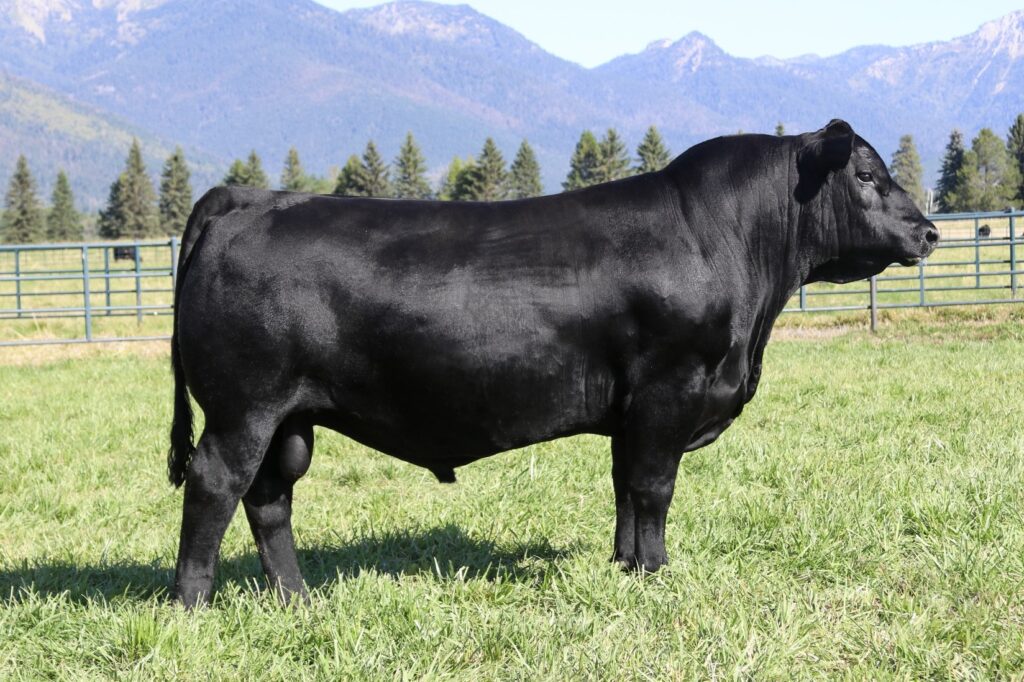 Click here for Angus EPD details
Outcross was the featured Lot 1 and high selling bull at the Montana Ranch 2020 sale
Unique outcross pedigree, out of a straight Argentina bred dam
David Brown described Outcross as: "robustly-shaped and long spined, exuding exceptional breed character and flawless structural soundness
Outcross may be one of the most unique Sire prospects to come out of 2020. Sired by SAV Density, known to sire those great productive females, and out of a cow bred by the highly respected Tres Marias program in Argentina. His Maternal Grandsire, Zorzal, has been a highly respected sire in Argentina both known to sire productive A. I. sires as well as show winners. Use Outcross to add breed character, improve feet and sire beautiful productive cows.
David Brown with Montana Ranch had this to say about Outcross: "The most unique herd sire prospect sold at auction in 2020, Outcross 9077 was the lead-off and top-selling bull of the 2020 Montana Ranch sale and is the genetic next step in the balance of maternal functionality and real-world performance.
Recording the 5th heaviest WW and 2nd largest adj. SC of his calf crop, Outcross is a 6.5 framed, robustly-shaped and long-spined powerhouse with flawless type, superior structural soundness and exceptional breed character.
Offering a one of a kind pedigree in the United States, Outcross is sired by the deceased, proven and high-demand Pathfinder Sire, Density, and was produced from Porto 3616, a deep-ribbed, perfect footed and moderate-framed female originating from the renowned Tres Marias program in Argentina.
Outcross 9077's dam is linebred to three of the most productive and prepotent animals in Tres Marias' history: tracing twice to Erica 2862, four times to Kate 2816, and twice to Hornero 5887, a South American foundation maternal sire. His maternal grandsire, Zorzal, has established himself as the Angus breed's most influential sire in South America, while Outcross' dam descends from Calandria 6226, arguably the most proven and popular dam in the Tres Marias program."
---
---
Production
| CED | BW | WW | YW | RADG | DMI | YH | SC | Doc |
| --- | --- | --- | --- | --- | --- | --- | --- | --- |
| +1 | +4.1 | +57 | +96 | +.23 | +.18 | +.3 | +1.06 | +19 |
---
Maternal
| HP | CEM | MILK | MKH/MKD | MW | MH | $EN |
| --- | --- | --- | --- | --- | --- | --- |
| +8.3 | +5 | +18 | | +77 | +.4 | -22 |
---
Carcass
| CW | MARB | RE | FAT | Carc GRP/PRG | Usnd GRP/PRG |
| --- | --- | --- | --- | --- | --- |
| +44 | +.24 | +.73 | +.035 | | |
---
$Values
| $W | $F | $G | $QG | $YG | $B |
| --- | --- | --- | --- | --- | --- |
| +40 | +94 | +32 | | | +126 |